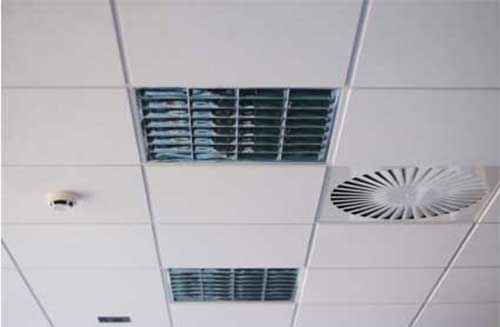 C&L Partitions are specialists in the supply and fit of Suspended Ceilings including Metal, Mineral, Glasswool, Rockwool and MF Plasterboard Suspended Ceilings.
Suspended ceilings can hide as well as provide space for service installations such as electrical, A/C, phone cables, pipes, heating and sprinkler systems.
MF Plasterboard Suspended Ceilings are ideal in residential units also. As new houses are being built with the first floor consisting of a concrete slab, the MF Plasterboard Ceiling is ideal for creating a desired void above the ceiling to run services (pipes, cables, air conditioning, etc.); the use of laser levels ensures it is flawlessly level.
We supply and fit a wide range of grid and tile from leading brands such as Armstrong, Gypsum, AMF Ceilings, we also offer equally approved materials.
Professionally installed Suspended Ceilings improve fire resistance, sound proofing, heat efficiency, humidity resistance, hygiene and sterile regulations.